Female economic
empowerment
We know that female empowerment drives a community's health and we focus on funding programs that create opportunities in education, health, and business so that women and girls are supported throughout their lifetime.
Today in Rural Kenya, thousands of women lack access to education, safe/affordable transportation to critical health care services, and work opportunities outside traditional, low-wage women's work.
This results in …
Young girls missing school leads to dropouts, early pregnancies, and financial dependency

A lack of skills mentoring and employment opportunities

High rates of preventable maternal and cervical cancer deaths

A lack of hope for a vibrant future
Introducing Boda Girls
We're creating a Boda Boda (motorcycle) taxi revolution with our latest pilot project, Boda Girls. Traditionally, Boda driving has been a "male job" – one that pays up to ten times as much as the farm labor that women typically perform. Through the Boda Girls program, women can now learn to drive, build their taxi business, provide safe and free transportation for women to critical health and education services and be a strong role-model to the young girls in their community.
Widows Program
In many cases, widows and their children, in addition to grief, face severe economic hardships and isolation. The Boda Girls plan to use the power of sisterhood to support widows with facilitated entrepreneurship classes, lay group stress counseling, and provide micro-lending opportunities for widows to develop their own cooperative businesses programs.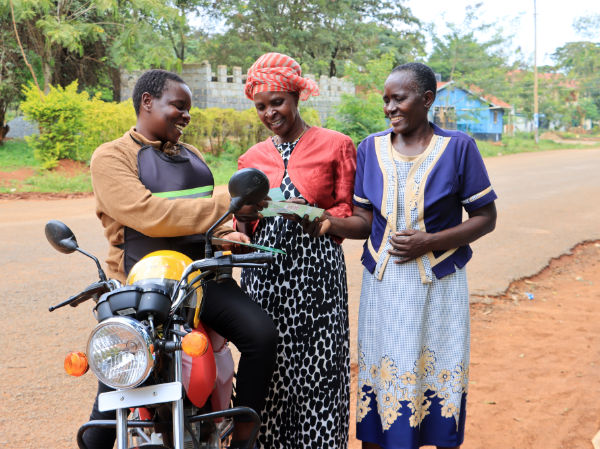 The Widows Program is being launched in collaboration with our new mortuary. The mortuary is a requirement for the highest levels of hospitals and it is also desperately needed in the community. The mortuary will run as a social enterprise in an effort to return funds to sustain the hospital and its community programs for widows in the long term. The mortuary will feature a chapel for gatherings as well as outdoor seating areas for counseling sessions, a communal planting area, and an (interpretative) pathway through a grove of trees that has been planted by visitors to Matibabu over the years.
Girls Programs
Boda Girls adopt schools to promote attendance and advocate for safe and clean restrooms. They teach 8th-grade girls menstrual health and distribute sustainable menstrual kits so they don't have to miss school during their cycle.
They also facilitate after-school Entrepreneurial Clubs to equip girls with the necessary tools to earn, use, and save money.
We know a woman will walk a few hours to get water for her family, but won't do the same for a cervical cancer screening for herself. Thanks to the Boda Girls' free rides to the hospital, the number of cancer screenings have increased by 300%!
primary schools learn about reproductive health, self-esteem, self-defense, entrepreneurial skills
girls receive sustainable menstrual education and tools
free rides for women to the hospital for family planning, prenatal, and cancer screening services
women develop profitable businesses and mentor others to do the same
Become a Champion for female empowerment.
By contributing to the Boda Girls initiative, you're investing in the lives of women and girls, and ultimately, in community transformation. Magnify your impact by becoming a Boda Girls Champion, and give a monthly gift of any amount to support the growth of Boda Girls!
*We are proud to pledge that 100% of donations go to supporting our partners in Kenya