"Working with Tiba in rural Africa has been the privilege of my medical career."
– Peter Sherris, MD, MPH
Are you looking for a way to share your skills and experience in a medically underserved part of the world? Tiba has sent over 200 medical professionals, many of whom are repeat volunteers, to western Kenya since 2004.
Volunteer in Kenya
At the request of our partners, Tiba sends more than 40 medical volunteers each year to share their expertise with local practitioners, creating sustainable change for the people of Western Kenya.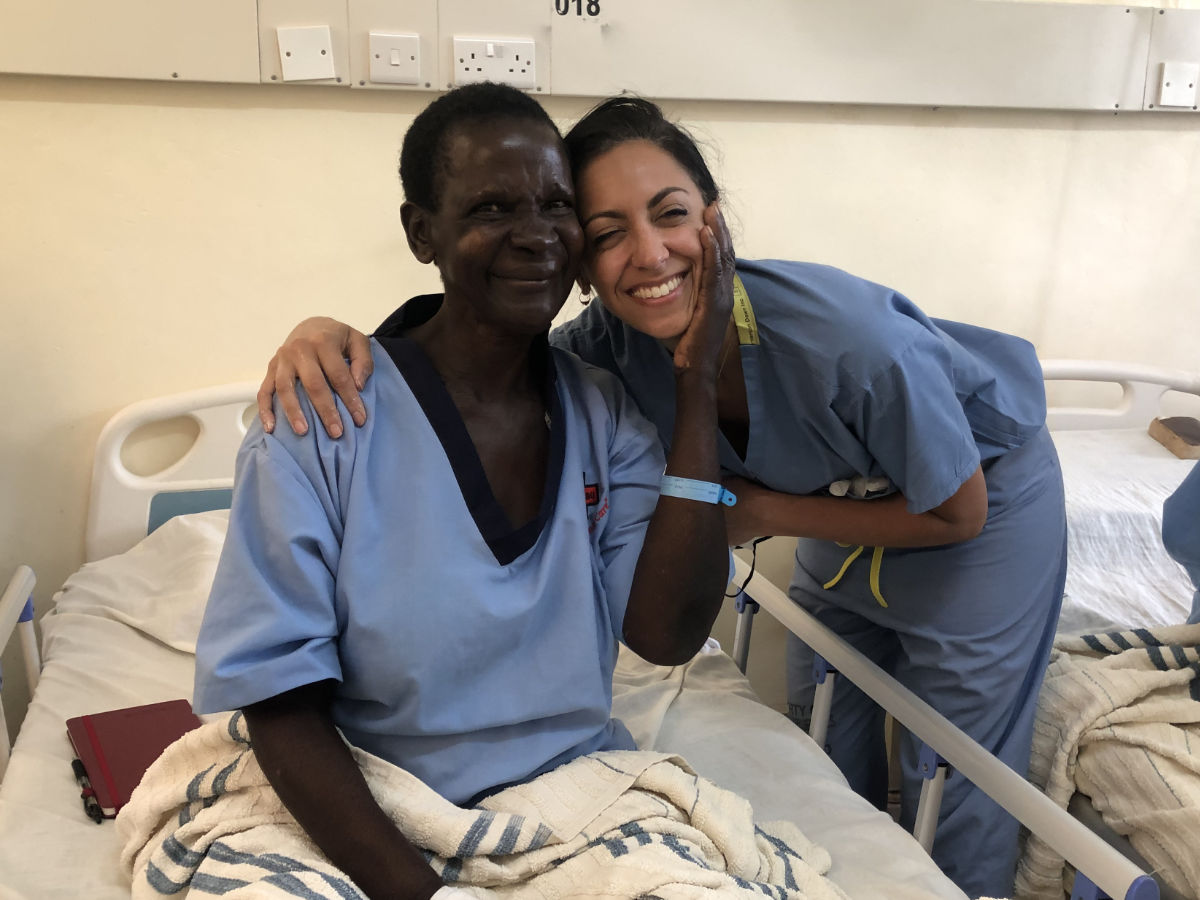 Volunteering with Tiba helps build the capacity of our programs while enabling critical medical services to thousands of local Kenyans. Our volunteer surgical teams perform more than 150 free and low-cost surgeries annually at Matibabu Hospital. It's not just the patients who are impacted. Experiences like these are enlightening, with past volunteers sharing that volunteering felt purposeful, enabling, and valuable, making long-term contributions while building lasting friendships. We take pride in delivering well-organized and impactful trips, with over 50% of our volunteers completing at least one return trip!
As a Medical Professional, you have the opportunity to contribute in a meaningful way by offering your expertise to local practitioners who are eager to develop professionally, to better care for their communities. Are you ready for a life-changing experience?
Volunteer in the US
Volunteers serving in the US also play an integral role on the Tiba team, helping with communications, community outreach, event management, participating in Tiba's Global Health Webinars series, and more.
Global Health Webinars
Determined not to lose steam when Covid hit, we launched our virtual Global Health Webinar series in collaboration with Matibabu Foundation. Connecting Matibabu's nursing students, staff, and professionals across the globe, our webinars offer expert perspectives on the issues of global health. See past events below and volunteer your expertise for a potential future panel discussion.
Not a Medical Professional? You can still help. We are looking for US-based volunteers with expertise in graphic design, communications, media, healthcare administration, fundraising, and more! Please consider volunteering with Tiba in the US and fill out the application below.
Past Global Health Webinars
Frequently Asked Questions
Q: Who is eligible to volunteer in Kenya?
A: Licensed physicians, surgeons, researchers, medical students, RNs, nurse practitioners, and other medical professionals. Please click here to read our volunteer handbook.
Q: When do volunteer visits take place?
A: Continually. Our partner organization in Kenya, Matibabu Foundation, coordinates volunteer visits according to work schedules and patient needs. Tiba aims to send quarterly surgical camps each season. Contact the Tiba Executive Director for these dates.
Q: Where would I be working?
A: Most physicians and surgeons work at Matibabu's hospital. Additionally, you may have the opportunity to work at Matibabu's outpatient clinic in Ukwala town, in the Ugenya District of Kenya's Nyanza Province. Ukwala is about 25 kilometers away from Lake Victoria and the Uganda border. The nearest city is Kisumu, about 50 kilometers to the southwest.
Q: What kinds of cases do volunteers see?
A: Everything. Since medical care is scarce, people often arrive with advanced diseases. Medical personnel here must be flexible, cheerful, and energetic and appreciate that they are volunteering in a village area of a developing country with access to fewer resources. Before your trip the Tiba Executive Director introduces you to the medical team at Matibabu to discuss cases.
Q: Do medical volunteers get a chance to teach?
A: Yes. Constantly in an informal way on rounds with the Matibabu team. There are also opportunities at the weekly hospital staff meetings. Lectures at the Matibabu College of Health Sciences can be arranged with the faculty to support their curriculum.
Q: Whom exactly do volunteers work for?
A: Tiba Foundation is a seed funding organization with a strong consulting role on the ground. Once in Kenya, Tiba's volunteer professionals report directly to our local partner, Matibabu Foundation.
Q: How does the process work?
A: Prospective volunteers start by filling out the online volunteer application form. Tiba checks home country credentials, conducts orientations, and passes the information along to Matibabu's cordial, capable volunteer coordinators. Matibabu arranges for Kenyan licensing, in-country transportation, and medical scheduling on the ground. Click here for a full outline of the process.
Q: How do financial arrangements work?
A: Volunteers pay transportation costs privately to and from Kenya. This cost is tax-deductible to the extent allowed by law. Within Kenya, costs for transportation, lodging, and food are paid by volunteers in advance to Tiba Foundation, and all arrangements are organized through the Matibabu Foundation.
Q: What about orientation and training?
A: Volunteers participate in several orienting interviews with Tiba executives, volunteer leads, and Matibabu head staff before departure. You will also receive an in-country orientation from Matibabu's staff, as well as an exit interview from Tiba's Executive Director.
Q: Where do volunteers stay?
A: Most people stay in a hotel in Siaya or Ugunja, near market towns. It is sometimes possible to arrange homestays in Ukwala.
Q: What help do you need in the US?
A: Tiba currently needs the following expertise:
Medical, research, and public health advisors who can advise on projects and connect us to partners
Speakers for monthly online webinars for hospital staff and for college students
Communications, marketing, and social media
Equipment and supply procurement
Volunteers who can support events
Administrative support for mailings
Q: How can I make the biggest impact as a Tiba volunteer in the US?
A: Help raise awareness and funding:
Join or form a fundraising chapter. Lead a small group of friends to generate awareness and raise money for Tiba's programs. Currently, we have chapters for Boda Girls and the Nursing Promise; you can join one of these or form another chapter in your area. Reach out to Tiba, Executive Director, for more information.
Connect us to others: introduce us by email, invite us to speak with you at events, and promote us to your community live and online.